Fees and opening times
Nursery and Forest School Club
The nursery and Forest School Club run during Haringey school term times and are closed during school holidays. See below for term dates.
Into The Woods on Sunday
These family sessions run one Sunday a month. See the Into The Woods On Sunday page for more details.
Term dates 2017–18
Autumn 1
Tuesday 5 September 2017 to Friday 20 October 2017 (6 weeks 4 days)
Autumn 2
Monday 30 October 2017 to Thursday 21 December 2017 (7 weeks 4 days)
Spring 1*
Wednesday 3 January 2018 to Friday 9 February 2018 (5 weeks 3 days)
Spring 2
Monday 19 February 2018 to Thursday 29 March 2018 (5 weeks 4 days)
Summer 1*
Monday 16 April 2018 to Friday 25 May 2018 (5 weeks 4 days)
Summer 2
Monday 4 June 2018 to Friday 20 July 2018 (7 weeks)
* The nursery will be closed for a staff training day at some point during the first week of this term - date TBC.
Session times
​
Whole day sessions are from 9.00am to 3.30pm, with lunch between 12.00 and 12.30pm
​
Half day morning sessions run from 9.00am to 12.00pm
​
Morning drop-off from 8.30am can be arranged
​
Half day afternoon sessions are from 12.30pm to 3.30pm
​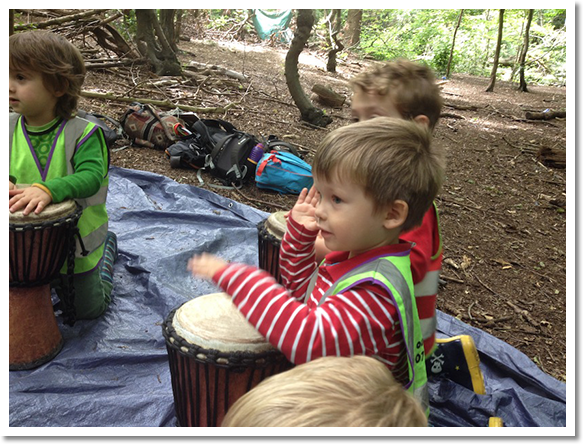 Fees
From 12 April 2016, our fees will be:
​
Summer term, Autumn first half term:
£30.50 half day / £59 whole day, lunch not included (children bring packed lunch)
​
Autumn second half and Spring term:
£30.50 half day / £61 whole day, lunch included
Enrolment fee
There is a £100 one-off fee payable on enrolment, to cover enrolment costs and the provision of a good quality rucksack and waterproofs.
Free 15 or 30 hours for 2 and 3–4 year olds
We are registered with the London Borough of Haringey as a provider of the Government funded hours for 2–4 year olds.
There are a limited number of places for children using the funded hours. We charge a fee for additional specialist services beyond the standard daycare provision.
Please see our Funding policy for more information.
To book a place for your child please use our booking request form.